Below you will find my new full-length book, Once: A Golden Shovel Collection (Kelsay Books), as well as my chapbooks, including links for purchase. Once is also available in several bookstores.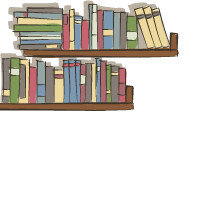 Once: A Golden Shovel Collection
Kelsay Books
$20
My latest book, five years in the making, is out! Once: A Golden Shovel Collection is available from the publisher, Kelsay Books, on Amazon, and at the following bookstores: Bookshop West Portal (San Francisco, CA), Fireside Books (Chagrin Falls, OH), Heights Arts (Cleveland Heights, OH), Mac's Backs (Cleveland Heights, OH), and Visible Voice (Cleveland, OH).
"The poems in Cathy Barber's Once: A Golden Shovel Collection carry the reader seamlessly across decades—from the belonging and otherness of childhood and youth, through cancer, recovery, and home. It's easy to lose sight of the golden shovel form in which these poems are written—just read and enjoy them."
—Sara McAulay, author of Catch Rides and Chance
An example poem from the collection, with Issa's haiku in bold:
Cat
     after Kobayashi Issa  
Who knows what goes
into a poem and what goes out,
words, spaces; a thought comes
but soon is cut back—
like running bamboo—the
scissors more important than the pen. I love
to laze in the morning, my life
composed of coffee, of granola, of
news of last night's score, a
shoulder heavy with my fidgety cat.
Aardvarks, Bloodhounds, Catfish, Dingoes
Abecedarian chapbook
Dancing Girl Press
$9 (includes domestic shipping & handling)
A slim volume of seventeen abecedarian poems; each is twenty-six words long, one for each letter of the alphabet, with the occasional exception of X, which just doesn't have many words to offer.
An example from the collection:
Azaleas, bougainvillea—
constellations drafting
ever fuller,
gracing home
in juicy
kisses, lips
moist, necks
of plantings.
Quivering roses
stir toes,
unearth vestigial
wonder. Explode,
yellow zinnias.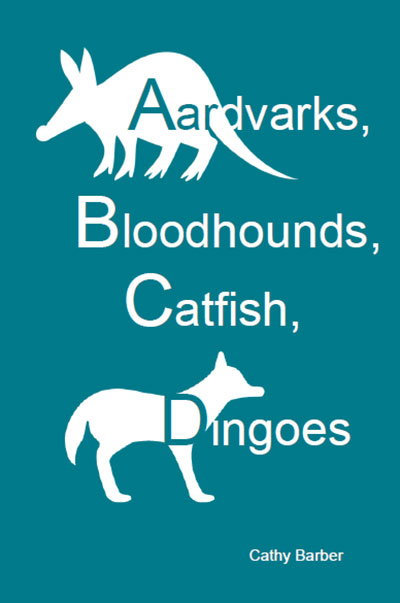 All We Hungered For
Free verse chapbook
Cover artwork by Jane McCreary
$14 (includes domestic shipping & handling)
Free verse chapbook printed by Small Poetry Press. As Clive Matson notes in his blurb, "Read Cathy Barber's All We Hungered For and be surprised by the raw, abraded world under the careful veneer of our lives."
From "Love Song: A Pantoum":
Someday you'll break your mother's heart.
You never lift a finger to help.
Is it too much to ask?
You'll never change, you.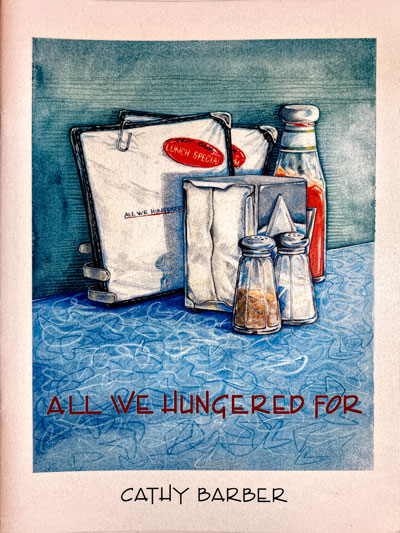 one drop of water and the glass overflows
Limited edition letterpress haiku chapbook
Cover artwork by Jane McCreary
Printed by Paper Crane Press in Half Moon Bay, California. Previously sold in Bay Area bookstores.
Sold out
Sample haiku from the chapbook:
Hot snake on a hot
     rock. The hawk's shadow offers
          a flicker of shade.